Need a chainsaw to trim your branches, fell some trees or clear away brush on your property? If you have ever worked outside you are probably already familiar with the Poulan brand!
At Whack Your Weeds we know that finding the right chainsaw for your project is tough! Our team of lawn and tree experts did that hard work and took an in depth look at all of the Poulan Chain Saws and picked a few of our favorites!
Poulan makes a wide range of chain saws, each designed for a difference use case. While this many models means you can find the perfect one for your job it makes choosing difficult!
Before we dive in we have to say all of Poulon's chain saws are well designed and built – we would be happy to have any model in our shed at home! Our team of tree trimming experts took an in-depth look at each of the models on the market.
We reviewed every critical piece and part of the chain saw including:
Price
Bar length
Motor
Horse power
Weight
Size
Power source
Warranty
Reviews
So you can find the best Poulan chain saw for your next cut! If you don't want to waste time reviewing each model check out our guide below so you can get back to cutting fire wood, trimming bushes and or logging!
Poulan Chain Saw Comparison Chart
| | Poulan Pro PP5020AV | Poulan Pro 967061501 | Poulan Pro 967084601 | Poulan PL1416 | Poulan Pro PR4218 |
| --- | --- | --- | --- | --- | --- |
| | | | | | |
| Type | Gas powered | Gas powered | Gas powered | Extension | Gas powered |
| Power Source | 50 cc, 2 stroke engine | 50 cc, 2 stroke engine | 40 cc, 2 stroke engine | 52cc, 2 stroke engine | 33cc, 2 cycle engine |
| Weight | 17 lbs | 11 lbs | 12.6 lbs | 10.1 lbs | 18.7 lbs |
| Size | 38.8 x 12 x 10.8 inches | 12.2 x 10.2 x 9.9 inches | 14.1 x 11.3 x 10.2 inches | 32 x 11 x 12 inches | 37 x 10.4 x 13.2 inches |
| Length | 20" | 12" | 14" | 18" | 20" |
| Warranty | Manufacturers Warranty | Manufacturers Warranty | Manufacturers Warranty | Manufacturers Warranty | Manufacturers Warranty |
| Price | $288.54 | $199.99 | $154.99 | $99.90 | $169.99 |
It was not easy for our team at Whack Your Weeds to pick out the best Poulan chainsaw. Poulan currently makes 8 models – and each is a winner! Our team reviewed every chainsaw available online and in stores and found that picking the best chain saw really comes down to what you are looking for! Residential and commercial needs are very different so make sure to do your research and get the best model!
Don't have time to shop around? Click here to skip ahead to our choice for the best all around Poulan chainsaw!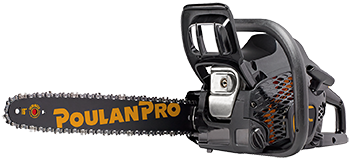 Our team of lawn and garden experts put together a quick comparison of the top Poulan models and picked out a few of our favorite models to use out in the field! Got a question about something we didn't cover? Reach out to us for more information!
Chainsaw
Score
Best For
Price
Type
Features
Poulan Pro PP5020AV
98%
Clearing brush
$288.54
Gas powered



DuraLife engine for a long life and dependability


50cc, 2 stroke engine



Poulan Pro 967061501
92%
Felling trees
$199.99
Gas powered



Extra power with less fuel consumption and fumes thanks to OxyPower technology


50cc, 2 stroke engine



Poulan Pro 967084601
90%
Seasonal use
$154.99
Gas powered

Ergonomic design for easy balance and use


40cc, 2 stroke engine



Poulan PL1416
92%
Light use
$99.90
Extension cord



Powered by extension cords so you never run out of juice


14Ah motor



Poulan Pro PR4218
88%
Cutting firewood
$169.99
Gas powered



Perfect mix of power and design for cutting wood


52cc, 2 stroke engine



Poulan P3314
90%
Trimming bushes
Gas powered



Small 14" bar perfectly designed for trimming brushes, shrubs and trees


33cc, 2 cycle engine



Poulan 967061601
95%
Residential use
from $136.95
Gas powered



Anti-vibration handle makes cutting aronud the house a breeze


33cc, 2 stroke engine



Poulan Pro PRCS16i
97%
Saving gas
$299.99
Battery powered



Save gas without sacrificing power like most electric models


58V rechargeable lithium-ion battery


Best Overall Poulan - Poulan Pro PP5020AV
Our choice for the best overall Poulan chainsaw model is the Poulan Pro PP5020AV! It was not easy to choose but after reviewing all the spec's we fell in love! The PP5020AV has a powerful 50cc, 2 stroke engine that is perfect for everything except the biggest jobs – but don't let that scare you, it is very easy to use!
Best for the Money - Poulan Pro 967061501
We are all about finding the best value – especially on power tools! Our choice for as the best Poulan for your money is the Poulan Pro 967061501! With a 50cc motor, 20 inch cutting bar and OxyPower engine that puts out 70% less pollution it is easy to see the value – plus it comes with a case!
Best Electric - Poulan Pro PRCS16i
Want to save the the Earth as much as we do at Whack Your Weeds? If you have access to a power outlet to charge a battery we recommend choosing an electric chain saw like the Poulan Pro PRCS146i – but don't worry each charge lasts for at least 300 cuts!
Best Residential - Poulan PL1416
Need a chain saw to trim your shrubs and take care of a few trees around your house? Not every one needs the biggest, most powerful model on the market – if you trim your plants every season and need a chain saw for general, around the house use we recommend the Poulan PL1416. 
Best Commercial - Poulan Pro PR4218
Commercial chain saws are serious business. Any down time or slow down means lost money. If your chain saw is not designed for heavy duty, all day work we recommend picking up the Poulan Pro PR4218. A good commercial chain saw should be powerful, have a bar over 18 inches and a large enough gas tank to run for 6+ hours.
Another important consideration when choosing a new chain saw for your crew is usability. If your team needs to use a chain saw for more than an hour per day it is important to choose something that is lightweight, ergonomically friendly and reduces vibrations like the PR4218!
Best for Landscaping - Poulan Pro PR4016
Landscaping with a chain saw is delicate work, one wrong cut and the bushes are going to look funny for a month – but you still can't sacrifice power! The best Poulan chain saw for landscaping is the PR4016 – it has a smaller 16 inch bar so it is easier to use on delicate bushes and shrubs but keeps the powerful motor Poulan chain saws are known for so you can cut right through thicker branches.
Best Lightweight - Poulan P3314
Sometimes a small, lightweight chain saw is all you need to get the job done! On the hunt for a light weight chain saw that is easy to use but does not sacrifice power – we recommend the Poulan P3314!
Best for Firewood - Poulan PL914
People tend to love cutting firewood, or totally hate it. Either way if you want to get the job done quickly you will need a good chainsaw like the Poulan PL914. 
Poulan Chainsaws Compared
All ouf Poulan's chain saws are great picks – just make sure you get the right one for your next job! Remember, each model was designed for a specific type of user – you don't want to try and use a P3314 for commercial work!
Pricing for Poulan chain saws varies from model to model. All of the chain saws cost at least $100, with the more expensive being over $250. With 8 different models on the market you are sure to find one in the price range.
All Poulan models look fairly similiar, with a black bar and neon orange or green body so make sure you don't pick up the wrong model! 
Poulan chain saws tend to receive good reviews but we did notice some problems with starting after extended use. Always make sure to use the correct oil to gas ratio!
Consumer Reports
The first place we check for unbiased reviews is Consumer Reports. Their reviews are positive for the most part but we did see repeated reports of overheating. Be careful, multiple products like the PP4818 and PP4218 having ratings in the 2's so be wary of lemons!
Amazon.Com
Amazon.com is our favorite place to shop for lawn and garden tools – after all where can you buy such a wide selection. Poulan has good ratings across all of it's models listed on Amazon – you can see a full list here.
Poulan-Pro.com
Most of Poulan's chain saws are very highly rated on their website, howerver the PL3314 has just a 2.3 rating after 31 reviews due to difficulty starting so it might be best to pick a different chain saw.
The highest rated model is the PRCS16i at 4.7 out of 5 stars!
PRCS16i Ratings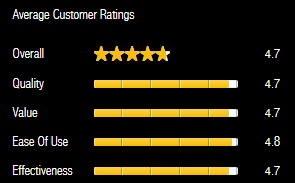 Which Model is Right for Me?
Not sure which model is right for you after reading our review?
It does not matter if you are looking for a powerful commercial model or an eco friendly, battery powered chain saw – Poulan has an affordable option that will look great in your shed or garage!
Need help picking the right one? Start by asking yourself these 3 questions:
What is my price range? Setting a hard ceiling on the amount of money you want to spend will eliminate some models.
What features do I want? More expensive models have more expensive features like more powerful engines and anti vibration technology. If you are looking to save some money try cutting some features!
 How much can I carry? Some of the bigger, more powerful models are much heavier than their electric counterparts. If you have a bad back, or weight is an issue make sure to get a model that weighs less than 18 pounds.