In a Rush? Check Out Our Top Log Splitter:
Finished chopping down some trees and need a way to split the logs for firewood? Our team of experts at Whack Your Weeds did some testing and field research and found that that Boss Industrial ES7T20 is the best log splitter available on the market!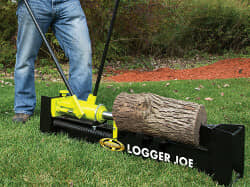 Trying to clear some land or cut up some logs for firewood? A log splitter is the perfect tool for effortlessly cutting logs. At Whack Your Weeds our lawn and landscaping experts are no strangers to clearing land.
We picked out some of the best log splitters and reviewed each models pros and cons. For more information and to find out our top log splitter of 2017 keep reading!
Powerhouse XM-380 Electric Hydraulic Log Splitter
Powerhouse XM-380 Electric Hydraulic Log Splitter, 7-Ton
Motor 3.5HP, 7 Ton, 2200 Watt, 3500RPM- no running out of gas and starts every time
Hydraulic, and Portable Electric Log Splitter
Log Cutting Capacity: up to 20-1/2-inch in Length and 12-inch in Diameter
Ram Travel Distance: 15.7-inch. Ram diameter: 1.18 Inch
Net Weight: 104lbs
LCS1240 Specifications
| | |
| --- | --- |
| Engine: | 40 Volt Lithium Ion |
| Cutting capacity: | 12 Inches |
| Weight: | 10.4 Pounds |
| Warranty: | 3 Year warranty |
Boss Industrial ES7T20 Electric Log Splitter
LCS1240 Specifications
| | |
| --- | --- |
| Engine: | 40 Volt Lithium Ion |
| Cutting capacity: | 12 Inches |
| Weight: | 10.4 Pounds |
| Warranty: | 3 Year warranty |
WEN 56206 Electric Log Splitter
WEN 56206 6-Ton Electric Log Splitter
Reliable 2 HP, copper-wound motor uses household current; No problems with cold starts or gas shortages; quieter, less expensive; Plug it in and go!
Safety first! Operation requires two hands to keep hands clear of the ram while fume free electric power allows for usage both indoors and outdoors
Built-in log cradle/guide keeps logs on track for even splitting of logs up to 10" in diameter and 20.5" in length
Portable with two comfort grip handles and 6" tires. Hydraulic pressure : 3000 PSI
CSA approved with a two-year WEN warranty. refer the Page 17 on user guide for Trouble shooting steps
Champion Power Equipment 92221 Gas Powered Log Splitter
Dirty Hand Tools 100171 Horizontal/Vertical Gas Log Splitter
Pow' R' Kraft 65575 Electric Log Splitter
Pow' R' Kraft 65556 4-Ton 15 Amp Electric Log Splitter
Dependable 1,500 watt electric motor that runs on regular household current
Splits a log up to 20-inches long and 10-inches in diameter (capable of 12-inches for most woods)
All steel construction for a long working life
4 tons of RAM splitting force
NEW stronger packaging to reduce shipping damage
Sun Joe LJ10M Logger Joe Hydraulic Log Splitter
Sun Joe LJ10M 10-Ton Hydraulic Log Splitter, Green
Powerful: hydraulic RAM Builds up to 10 Tons of driving force
Large capacity: splits logs up to 18 in. Long x 8 in. Wide
Efficient: RAM return spring for quick resets
Durable: Steel frame construction with wheels for easy portability
Easy to use: No gas, oil or cords.Wheel Size:2.48 inch
There's a lot of ground to cover when it comes to the best grass types for Houston, Texas. Not only do you need to take
Read More »
People often ask us where is the carburetor located on a lawn mower. The location of the carburetor depends on the make and model of
Read More »
When it comes to types of grass, Oklahoma lawns have some unique needs. The climate can be a bit extreme, with hot summers and cold
Read More »