In a Rush? Check Out Our Top Leaf Blower:
BLACK+DECKER LB700 7-Amp Corded Blower
In the middle of cleaning up and need a leaf blower you can count on to last more than 1 season. The lawn care team at Whack Your Weeds put the top brands to the test and picked the BLACK+DECKER LB700 as the best!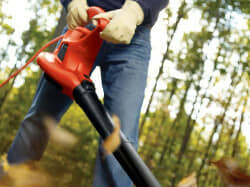 A good leaf blower is one of the fastest way to clean up your yard after mowing the grass or trimming the hedges. By blowing your grass trimmings, leaves or other debris away or into a bag you can have your property looking great much faster than using a broom.
There are many great electric and gas powered models for use cleaning up outside the house or on a commercial job. Some of the most popular leaf blower brands on the market are BLACK+DECKER, Husqvarna and WORX!
BLACK+DECKER BV5600 High Performance Leaf Blower
BLACK+DECKER BV5600 High Performance Blower/Vac/Mulcher
The 12 amp motor operates a 3 in 1 blower, vacuum and mulcher all in one
250 mph blower with 2 Speed selections
Can grind up to 16 bags of mulch down to one
Easy change between vacuum and blower, Decibel : 68 dBA
2 Speed selections for flower beds and powerful enough for matted leaves
BV5600 Specifications
| | |
| --- | --- |
| Motor: | 12 Amp motor |
| Top speed: | 250 MPH |
| Weight: | 14.3 pounds |
| Warranty: | 2 Year warranty |
BLACK+DECKER LSW20 20V MAX Lithium Ion Sweeper
LSW20 Specifications
| | |
| --- | --- |
| Motor: | 20-Volt MAX battery |
| Top speed: | 120 MPH |
| Weight: | 3.7 pounds |
| Warranty: | 2 Year warranty |
WORX TRIVAC WG509 12 Amp 3-in-One Leaf Blower
WORX WG509 TRIVAC 12 Amp 3-in-1 Electric Blower/Mulcher/Vacuum with Multi-Stage All Metal Mulching System
LEAF BLOWER, MULCHER & VACUUM: Yard work doesn't stand a chance with this 3 in 1. And it's pretty fun to use. You'll actually look forward to leaves and debris covering your lawn or driveway, because they won't be there for long
QUICKLY SWITCH MODES: Changes from leaf blower to vacuum/mulch mode and back again with just the flick of a switch. No tools needed, just you, your WORX TRIVAC, and your thumbs
METAL MULCHER: The metal impeller with its shredder blade cuts in two stages, chopping leaves down to an 18:1 mulch ratio (that's 18 bags of leaves mulched into 1)
2 SPEEDS FOR DIFFERENT JOBS: 75 mph or 210 mph. It's actually better to go slow for pavement or tight corners. But on the open lawn, let's dial this thing up to 210
ONE-HANDED OPERATION: With all that power, believe it or not, the WORX TRIVAC is designed to be controlled with just one hand. It's only 9.3 lbs, and the ergonomic design funnels all that wind in a way that's easy to handle
WG509 Specifications
| | |
| --- | --- |
| Motor: | 12-Amp motor |
| Top speed: | 210 MPH |
| Weight: | 22 pounds |
| Warranty: | 2 Year warranty |
Husqvarna 125BVx 28cc Leaf Blower
125BVx Specifications
| | |
| --- | --- |
| Motor: | 28cc engine |
| Top speed: | 170 MPH |
| Weight: | 9.6 pounds |
| Warranty: | 2 Year warranty |
Makita DUB182Z Lithium-Ion Cordless Leaf Blower
Makita DUB182Z 18V LXT Lithium-Ion Cordless Blower, Tool Only
Variable speed (0 18,000 RPM) for optimum speed control. Maximum air volume is 91 cfm
Upto 12 minutes of continuous operation from a single charge at high speed
Compact and ergonomic design. Overall length : 20 3/4 inches long
Weighs only 3.9 pounds with battery for reduced operator fatigue. Battery and charger sold separately
Rubberized soft grip handle for increased operator comfort
DUB182Z Specifications
| | |
| --- | --- |
| Motor: | 20-Volt MAX battery |
| Top speed: | 120 MPH |
| Weight: | 3.7 pounds |
| Warranty: | 2 Year warranty |
Husqvarna 150BT Backpack Leaf Blower
150BT Specifications
| | |
| --- | --- |
| Motor: | 50.2cc Engine |
| Top speed: | 250 MPH |
| Weight: | 22.5 pounds |
| Warranty: | 2 Year warranty |
Husqvarna 965877502 Backpack Leaf Blower
965877502 Specifications
| | |
| --- | --- |
| Motor: | 50.2cc Engine |
| Top speed: | 182MPH |
| Weight: | 22.5 pounds |
| Warranty: | 2 Year warranty |
Greenworks 24012 Electric Leaf Blower
24012 Specifications
| | |
| --- | --- |
| Motor: | 7-Amp motor |
| Top speed: | 160 MPH |
| Weight: | 5.6 pounds |
| Warranty: | 4 Year parts and labor warranty |
BLACK+DECKER LSW36 Cordless Sweeper
Sale
BLACK+DECKER LSW36 40V Lithium Ion Cordless Sweeper, 24
Powerful 36-volt lithium ion rechargeable battery delivers the power with long run-time to complete the toughest jobs
Power Command controls speed for maximum run-time or maximum power; Decibel <66 dBA
Clears debris from hard surfaces like patios, decks, walkways, driveways and garages
Blow tube with built-in scraper allows users to loosen matted leaves and stuck-on debris
Soft grip handle; lightweight at just 4.7 pounds.Not recommended for use in the grass or flower beds
LSW36 Specifications
| | |
| --- | --- |
| Motor: | 40-Volt lithium battery |
| Top speed: | 120 MPH |
| Weight: | 4.7 pounds |
| Warranty: | 3 Year warranty |
Looking for a natural way to take care of your health in ? Imagine having a garden in your backyard that can help with everything
Read More »
If you have pine trees in your yard or are thinking about adding them to your landscape, you might be wondering: Do pine needles kill
Read More »
Ever wondered if deer poop can kill grass while noticing those small, oval pellets scattered across your lawn? You're in good company. This article explores
Read More »